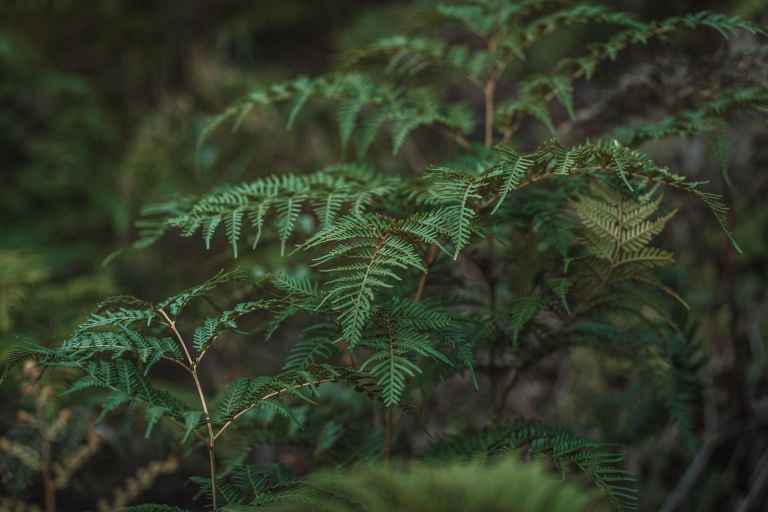 Tours of Freycinet National Park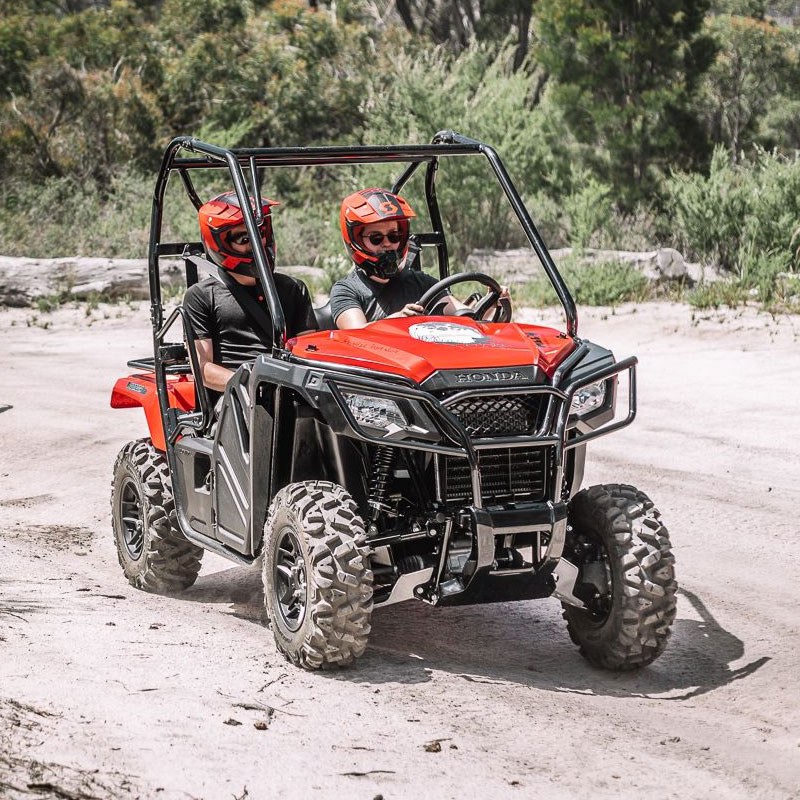 2-hour ATV Adventure
Enjoy the adventure of riding your own ATV to remote areas of Freycinet National Park.
More info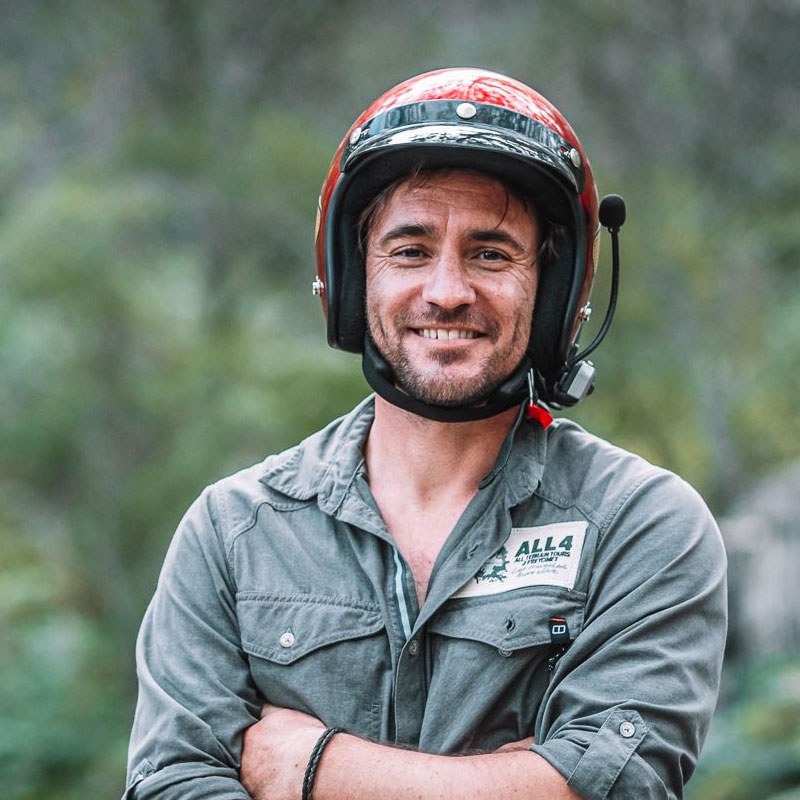 Half-day ATV Explorer
Explore further within the famous Freycinet National Park.
More info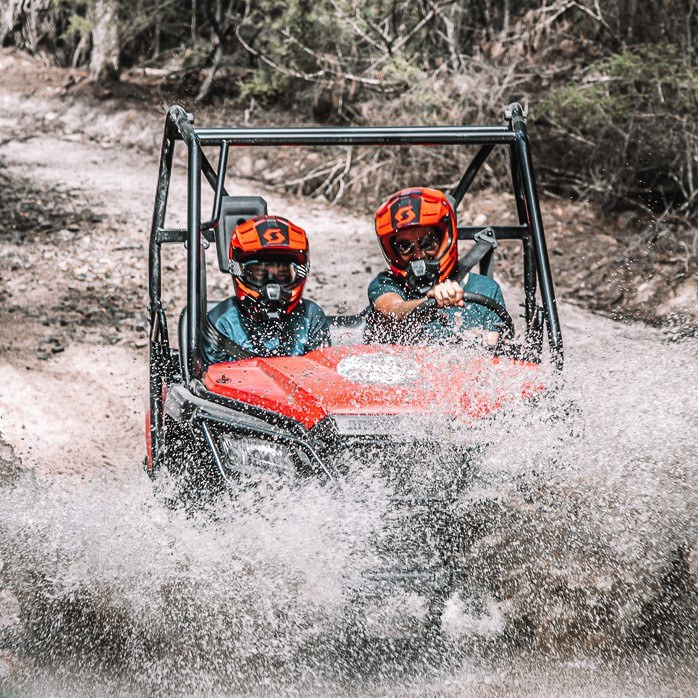 Groups & Corporate Tours
ALL4's All Terrain Vehicle tours have proved extremely popular with groups, large and small.
More info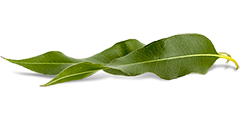 Tour FAQs
Do the tours go to Wineglass Bay?
Wineglass Bay can only be accessed by walking or by boat. Our tours visit stunning, more remote locations that few people are able to access.
Do I need a licence?
You will need a car drivers licence to operate a vehicle. It must be at minimum a Provisional licence. If your standard licence is not in English, you will need to obtain an international licence. Anyone without a drivers licence is still able to participate as a passenger.
Can we swap Drivers?
So long as both participants have a current driver's licence, you are welcome to share a vehicle and take turns to drive. Make sure you book one Driver and one Passenger and bring your licence on the day. You will both need to complete the training and then once out on the track, you can swap whenever the tour stops for a scheduled break.
Can children ride their own vehicle?
Our tours operate on public land in the National Park which require all riders to have a current drivers licence so they are covered by insurance, even if they are experienced riders.
Minimum numbers?
We require a minimum of 2 x Drivers to make a booking. If you are booking for just 1 x Driver or 1 x Driver and 1 x Passenger, please contact us first.
Cancellation Policy?
A non-refundable deposit of $30 per person is required to confirm all bookings. This may be provided in the form of credit card details or direct deposit. In providing credit card details you give authority for ALL4 and its staff to process the required amount. Credit Card details are kept as a holding deposit and not charged until the day of the tour at which time you may elect to pay the full amount by cash, credit or EFTPOS. Cancellations of less than 48 hours notice will incur a fee of 100% of the total purchase price, unless the seats can be resold. ALL4 will process this amount in the event of cancellation of a confirmed tour with less than 48 hours notice if seats cannot be resold. Cancellations of greater than 48 hours will incur a fee of $30 per person. Alterations can be made to departure dates and times at no cost up until 24 hours prior to the tour.
Weather?
We are an all weather activity. Tours will not be cancelled due to rain.
The Freycinet regions climate, generally, is mild and dry.
It is advised you dress accordingly if rain is forecast.
If you do not have your own wet weather gear and it happens to rain during your tour, we do provide it.
Do I need a National Parks Pass?
As we enter the National Park on tours, All participants are required to have a valid Parks Pass.
They can be purchased online at Welcome to Parks Passes, at the local Freycinet Visitor centre or at a Service Tasmania centre.
A day pass is all that is required, but you may choose a holiday or yearly pass if you are visiting other National Parks in Tasmania.
What vehicles are available?
Previously ALL4 ran Quad bike tours and has recently transitioned entirely to SXS or ATV buggies as suitable Quads are no longer available to purchase in Australia due to legislation changes. You may still discover previous images, films and reviews featuring ALL4's Quad bikes, but they have now been superseded by these new and improved All Terrain Vehicles.
Rest assured, our new buggies are no less of an experience and are a safer option for exploring the stunning coastline.
"An awesome way to track through the National Park and get to those secluded places that no other vehicle can"
- Gen Verve